Hajamiel from
Written Before Dawn
challenged me to answer the following eleven questions. At the moment, I'm too unimaginative (or preoccupied) to make up any new questions, so consider yourself lucky, dear reader, as I won't pass on the curse. I'm currently studying for my finals, and daylight seems to avoid my waking hours, so photography must wait.
Written Before Dawn
in Hajamiel haastoi minut vastaamaan seuraaviin yhteentoista kysymykseen. Tällä hetkellä olen liian mielikuvitukseton (tai muiden ajatusten valtaama) keksimään uusia kysymyksiä, joten voitte pitää itseänne onnekkaina, sillä en siirrä kirousta eteenpäin. Opiskelen parhaillaan loppukokeisiin, ja päivänvalo vaikuttaa välttelevän hereilläoloaikaani, joten valokuvaus saa odottaa.
1. Your favorite album / Suosikkialbumisi?
If I had to pick one and only one, it would be Pornography by The Cure.
Jos minun pitäisi valita vain yksi, se olisi The Curen Pornography.
2. Your goal for year 2012 / Vuoden 2012 tavoitteesi?
To read 100 books. You can follow my progress
here
(only in Finnish, sorry!).
Lukea 100 kirjaa. Edistymistäni voi seurata
täällä
.
3. If you could meet someone you might not meet otherwise, who would that be? / Jos voisit tavata jonkun, jota et muuten tapaisi, kuka hän olisi?
This was a tricky question. I considered everyone from Bellatrix Lestrange (not a good idea, might end up dead) to Freddie Mercury (What would I even say to him? "OMG I adore you can you sing something pleeeease? And could we also swap bodies for some time?") until I chose Amanda Palmer because she's brilliant and intelligent and we could talk about so many wonderful things (well, painted eyebrows, feminism, queer theory and Rocky Horror, at least).
Tämä oli hankala kysymys. Harkitsin kaikkia Bellatrix Lestrangesta (ei hyvä idea, voisin vaikka kuolla) Freddie Mercuryyn (Mitä edes sanoisin hänelle? "Omg palvon sinua voisitko laulaa jotain ja voisimmeko vaihtaa kehoja joksikin aikaa jooooko?") kunnes valitsin Amanda Palmerin, koska hän on loistava ja älykäs ja voisimme puhua niin monista upeista asioista (no, ainakin piirretyistä kulmakarvoista, feminismistä, queer-teoriasta ja Rocky Horrorista).
4. Your favorite food / Lempiruokasi?
I eat to live rather than live to eat, if you allow one worn expression. Anyhow, Chinese with tofu or, alternatively, fish soup made of unlucky ingredients I've caught myself, preferably made by my grandmother. A controversial method of obtaining food, but I let myself dwell in the excuse that it is considerably more environmental-friendly than consuming industrialised products of overfishing or farming.
Syön elääkseni pikemmin kuin elän syödäkseni, mikäli sallitte kauhtuneen ilmaisun. Sanotaan kuitenkin kiinalainen tofulla tai vaihtoehtoisesti isoäitini tekemä kalakeitto, jonka epäonniset ainesosat olen itse pyytänyt. Tapa hankkia ruokaa lienee kiistanalainen, mutta sallin itseni ajatella, että se on huomattavasti ekologisempaa (merkityksessä "ympäristöystävällinen") kuin teollistettujen kalankasvatuksen ja riistokalastuksen tuotteiden kuluttaminen.
5. Music, books, games, dancing...fencing? Or something else? (Pick just one and explain!) / Musiikki, kirjat, pelit, tanssiminen... miekkailu? Vai jokin muu? (Valitse yksi ja selitä.)
I've ended up sacrificing clean water before forests, books and music when faced with similar questions. However, literature was my first love, and I believe that words have more power to shape thoughts, so I choose books.
Olen aiemmin päätynyt uhraamaan puhtaan veden ennemmin kuin metsät, kirjat ja musiikin. Kirjallisuus oli kuitenkin ensirakkauteni, ja uskon, että sanoilla on enemmän valtaa muotoilla ajatuksia, joten valitsen kirjat.
6. Who do you look up to? (As a person, or as in personal style, as you wish.) / Ketä ihailet? (Henkilönä tai tyyli-ihanteena, kuten haluat.)
Helena Bonham Carter. She's talented, beautiful and has a wonderful, eccentric style that makes journalists type ridiculous things whenever she attends a gala. She's been accused of fashion crimes such as combining different-colour shoes, her dress being "too cartoonish and young for her" and her face being too pale and giving her an unattractive "risen from a grave" look. Also, Helena is short and still wears layers and skirts of unconventional lengths. Her boyfriend (not husband, you foolish journalists!) is one Tim Burton. In short, she is a BAMF who can wear several hats simultaneously and look gorgeous.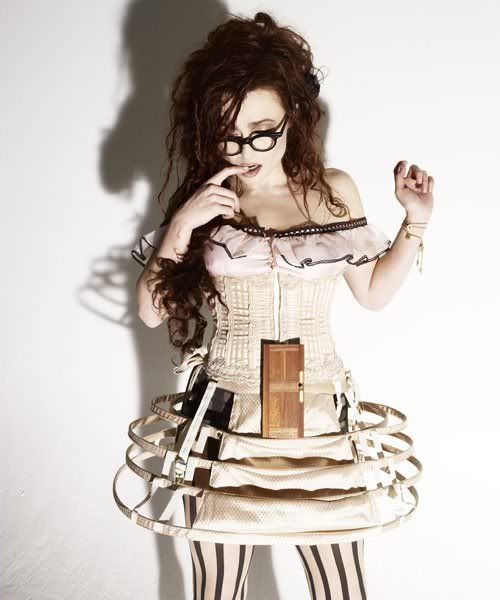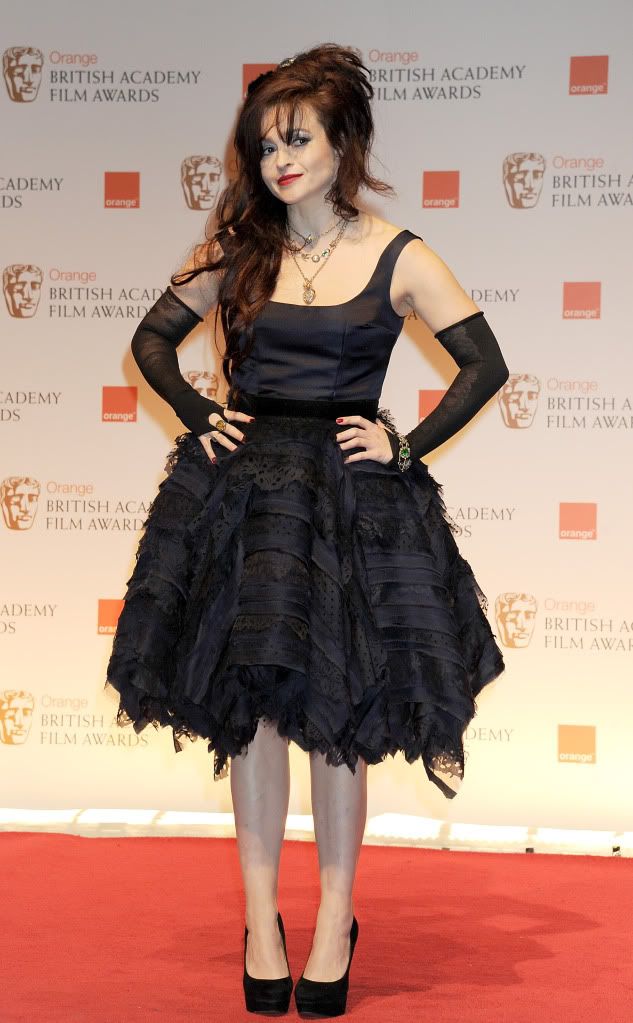 Helena Bonham Carteria. Hän on lahjakas, kaunis, ja hänellä on upea, omalaatuinen tyyli, joka saa toimittajat naputtelemaan naurettavuuksia aina, kun hän näyttäytyy ulkona. Häntä on syytetty sellaisista tyylirikkeistä kuin liian sarjakuvamainen ja nuorekas mekko, eriväristen kenkien yhdistäminen ja turhan kalpeat kasvot, jotka saavat hänet näyttämään haudasta nousseelta. Lisäksi Helena on lyhyt ja käyttää silti kerroksia ja epätavallisen pituisia hameita. Hänen miesystävänsä (ei aviomiehensä, hupsut toimittajat!) on eräs Tim Burton. Lyhyesti sanottuna hän on BAMF, joka voi pitää useampaa hattua samanaikaisesti ja näyttää upealta.
7. Your... favorite smell / Lempituoksusi?
The smell of sea air or candles.
Meri-ilma tai kynttilät.
8. A candle, a fireplace, a sauna, a campfire, a house, which one would you like to see to burn? / Kynttilä, takka, sauna, nuotio, talo, minkä näistä haluaisit nähdä palavan?
In reference to the previous question, I pick the candle.
Edelliseen kysymykseen viitaten valitsen kynttilän.
9. If you found yourself in a middle of a forest, what would you do? / Jos löytäisit itsesi keskeltä metsää, mitä tekisit?
Head to the nearest airport, even if I had no clue where it is. (Google MapCrunch if needed.)
Suuntaisin lähimmälle lentokentälle, vaikkei minulla olisi aavistustakaan, missä se on. (Googlaa tarvittaessa MapCrunch.)
10. Ever helped an old person across a street? / Oletko koskaan auttanut vanhan ihmisen tien yli?
As far as I recall, no. Never had a chance.
Muistaakseni en, ei ole tullut tilaisuutta.
11. A question you wouldn't want to answer to / Kysymys, johon et haluaisi vastata?
This.
Tämä.