Last weekend I visited local flea markets in the company of three generations of family—with my grandmother, mum, aunt and cousin, that is—without much success. A crappy, camera-phone-quality photo of my coord doesn't quite capture the blue of my hair.
Viime viikonloppuna kiertelin kirpputoreja kolmen sukupolven – isoäitini, äitini, tätini ja serkkuni –seurassa tekemättä juurikaan löytöjä. Surkea, kännykkäkameralaatuinen asukuva ei oikein toista hiusteni sineä.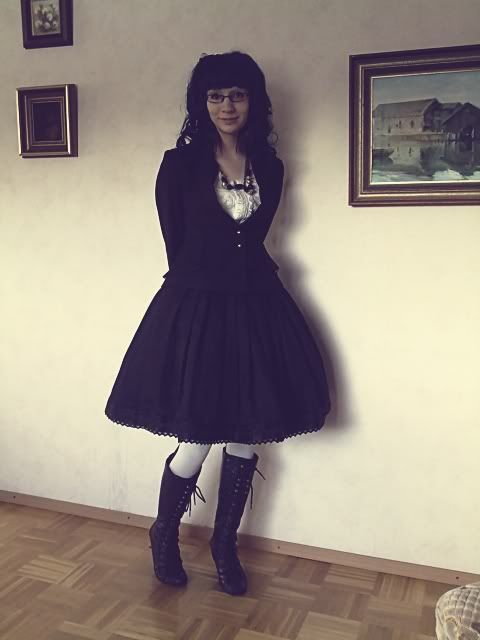 Blazer: H&M
Skirt: a flea market find
Everything else: random
At the moment, I'm enjoying my studying holiday, but I left home to fetch some books on Monday. I wore my Moitié-without-Moitié outfit, jokingly named after the lovely A-line skirt with gorgeous lace. My grandmother bought it from a flea market for 4 euros, but the quality of the fabric would suggest something else.
Tällä hetkellä nautin lukulomasta, mutta maanantaina raahauduin kotoa noutaakseni muutaman kirjan. Nimesin asuni moitiéttomaksi moitiéksi upeapitsisen, A-linjaisen hameen mukaan. Mummoni osti sen kirpputorilta neljällä eurolla, vaikkei kankaan laadusta uskoisi.
Everything: no brand, courtesy of local shops and flea markets
A bonus picture: What to wear in a Finnish winter?
Lisäkuvana: Miten pukeutua Suomen talveen?