On Sunday, I accompanied my mum to a Christmas carol concert and headed afterwards to the cinema to see The Hobbit for the second time with a friend. The not-so-good-quality wig was an extempore solution to a hair crisis, but if I ever have to stop dyeing my hair blue, dark brown is a viable option. Below on the left is what I wore to the Ofelia fashion market on the 10th of December.
Sunnuntaina kävin äitini seurana joululaulukonsertissa, jonka jälkeen suuntasin katsomaan Hobitin toista kertaa ystäväni kanssa. B-luokan peruukki oli pikaratkaisu hiuskriisiin, mutta jos joskus joudun värjäämään hiukseni pois sinisestä, tummanruskea on varteenotettava vaihtoehto. Vasemmanpuoleiseen asuun puolestaan pukeuduin joulukuun kymmenennen päivän Ofelia-markettiin.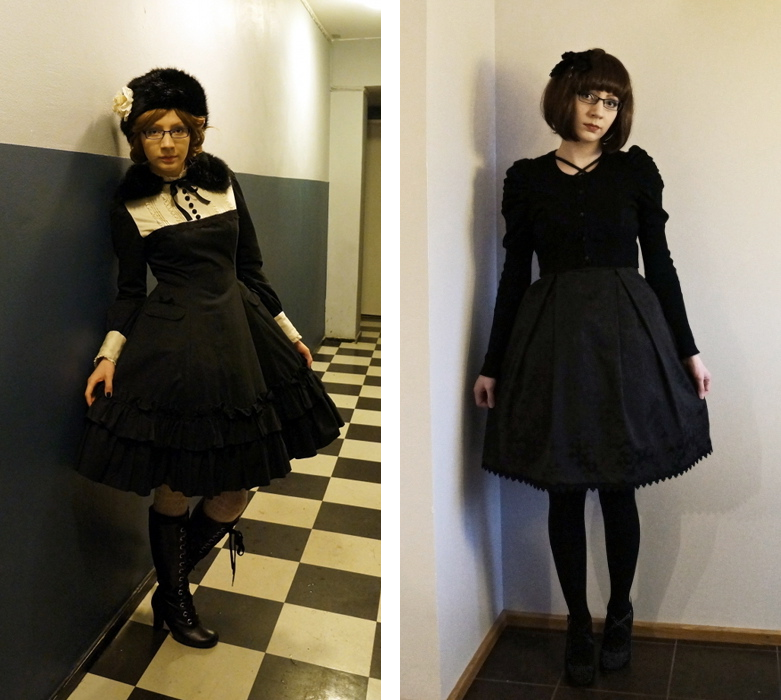 Hat: Accessorize

OP: Mary Magdalene

Boots: T.U.K.
Everything else: random shops

Headbow: self-made
Dress: customised
(originally Vila)
Everything else: random shops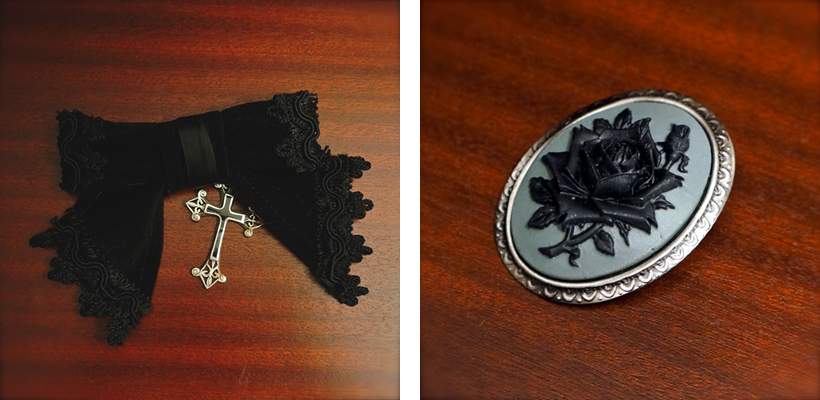 On the left is a close-up of the headbow I crafted on impulse specifically for the second outfit. The beautiful brooch on the right is one of the items I bought at the Ofelia market.
Vasemmalla lähikuva hiusrusetista, jonka ompelin varta vasten toiseen asuuni sopivaksi. Oikeanpuoleisen kuvan rintaneulan ostin Ofelia-marketista.
Winter outfit shot without a snowy ground. Can you believe the whole pedestrian street is heated to prevent it from freezing?
Talviasukuva, vaan missä maan lumivaippa? Koko kävelykatu on lämmitetty, jottei se jäätyisi.